My johndenugent.com site, founded in 2009, has now disappeared after 102 straight days of Jewish hacking, beginning  September 11, when Russian TV (the Russia-1 channel) promoted my article on Trump and Jewish assassins. This hacking has led to an 80% decline in readership and a 48% decline in donations.
DEUTSCH

 Meine johndenugent.com-Website, die im Jahr 2009 gegründet wurde, ist nun nach sage und schreibe 102 Tagen des jüdischen Hackens verschwunden. Die Angriffe begannen am 11. September, als das russische Fernsehen eine Artikel von mir über jüdische Attentäter und die Gefahr für Donald Trump promotete. Dieses Dauerhacken führte zu einem 80% igen Rückgang der Leserschaft und einem Rückgang der Spenden um 48%.
I must get in funds immediately for it — and my Aryan mission — to return.
DEUTSCH

Ich muss sofort Spenden bekommen, oder meine Site — und meine arische Sendung — hören ganz auf. 
A comrade wrote:
I just sent you $100. This on top of all my cash donations all year long.
I challenge every regular reader to contribute shekels to John now.
 DO IT!!   If you read the site and don't help, you're doing exactly what your enemies want you to do.  Your apathy is their greatest weapon.
Everyone reading this can spare $5.  That's all it will take for John to have a regular source of income.  $5/month from every reader.  You probably spend more on coffee every day.
JUST DO IT!!!
DEUTSCH
Ein Kamerad schrieb.
Ich habe Ihnen gerade $ 100 geschickt. Dies kommt über die Bargeldspenden im Laufe des ganzen Jahres hinaus.
Ich fordere jeden regulmäßigen Leser auf, John Schekel jetzt beizutragen.
TUN SIE ES!! Wenn Sie die Website lesen und nicht helfen, tun Sie genau das, was Ihre Feinde wollen. Ihre Gleichgültigkeit ist deren schlimmste Waffe.
Jeder, der dies liest, kann auf $ 5 oder Euro verzichten. Das würde genügen, damit John regelmäßige Einnahmen hat. $ 5 / Monat von jedem Leser…. Sie geben wahrscheinlich mehr täglich für Kaffee aus.
MACHEN SIE ES EINFACH!!!
A comrade queried:
[20:59:26] M: Just saw the EKP bit about your site disappearing. Is that different from a normal hack, as in worse, or much worse?
[21:10:23] John de Nugent: It means the site is down because the Jews hacked the server which my site was on for 102 days straight, donations dried up, and so I could not pay the bill and in fact am overdrawn by $56 on my only checking account.
DEUTSCH Ein Kamerad fragte:
[20:59:26] M: Ich habe gerade auf der EKP-Site etwas gelesen, dass Ihre Website verschwindet. Ist das anders als ein normaler Hack, aber schlimmer oder viel schlimmer sogar?
[21:10:23] John de Nugent: Es bedeutet, dass die Site heruntergekommen ist, weil die Juden den Server gehackt haben, auf dem meine Site lief, für 102 Tage hintereinander, die Spenden versiegten, und so konnte ich die Server-Rechnung nicht bezahlen. Ich bin sogar um $ 56 auf meinem einzigen Girokonto überzogen.
…..Outstanding interview becomes a catastrophe for lack of funds
"Donald Trump: USS Liberty Survivor Calls for Justice" – 1 of 3

"Donald Trump: USS Liberty Survivor Calls for Justice" – 1 of 3

You can skip to the real beginning at 3:16. Welcome to Resistance Radio! Ron Kukal, on the bottom right of this …
This was an interview with a USS Liberty survivor, Ron Kukal, now very old, and we had NO MONEY, so it was all done on the FREE version of Skype, and the Jews hacked it, so the sound is a CATASTROPHE.
GERMAN Ausgezeichnetes Interview mit Überlebendem des israelischen Angriffs (Falsche Flagge) auf das Schiff USS Liberty der US-Kriegsmarine im June 1967 — durch Geldmangel geriet es in der Tonqualität zu einer Katastrophe
"Donald Trump: USS Liberty Survivor Calls for Justice" – 1 of 3

"Donald Trump: USS Liberty Survivor Calls for Justice" – 1 of 3

You can skip to the real beginning at 3:16. Welcome to Resistance Radio! Ron Kukal, on the bottom right of this …
Der damalige Matrose Ron Kukal, nun sehr alt, hatte den Befehl auszuführen, die verwesenden Leichenteile der 37 toten, von Juden ermorderten US-Matrosen, einzusammeln, die alle in der Sommerhitze des Juni 1967 im Mittelmeer schrecklich stanken.
Da wir aber KEIN GELD hatten, benutzten wir eine Gratis-Version von Skype fürs Interview, die Jews sabotierten es, so ist der Ton schrecklich und das ganze Interview für die Katz!
John de Nugent
***
…….Why we need Virtus
A comrade wrote me that my site was totally gone. I replied:
.
Hi, T[]
.
Thanks for the heads-up on that.
.
Yes, the server for my site, for sonnenrad.tv with all my videos, and seven other WN sites, is down for non-payment of $550.
.
Debating what to do at this point.
.
In a way, I could just use this time to work on my religion. Of course, I am off everyone's radar then, and this is also physically dangerous. It is the whistleblowers with no following that get bumped off, and Obama is still in office.
.
I have actually not left the house in two days, but mainly for being totally broke. 
 When I do leave, I am extremely heavily armed, and the village is so underpopulated that literally there is never anyone right behind me, even in a store, of which there are two, an IGA grocery store and a dollar store.
.
Your generous Stripe donation should be in tomorrow and thank you again so much for that. At least then my account will not be overdrawn but then boast a balance of $43. 
.
(I will probably use it to throw a wild party with expensive call girls, cognac and now, of course, Cuban cigars, thanks to President Obama.
 See, he did do some good things for America — Cuiban cigars and, most of all, gay marriage! 
)
.
In Germany a new attack has begun on me as
"

der Troll des Feindes, ein Größenwahnsinniger, ein selbstverliebter Psychopath []

 "
.
Transl:
.
the troll of the enemy  [= Putin and Russia, of course], a megalomaniac, a self-adoring psychopath [….]
.
(I am hurt she forgot to mention "homosexual, pedophile, con man, Jew and dog torturer"!)
.
So anyway, now I have zero web presence.
.
A good time to reflect…. As the French say, la traversée du désert.
.
.
You know, I was reading in Kathleen Sullivan's Unshackled.  
.
.
It seems to me that God has spared me so far and, btw,  the "Lucian" she refers to is clearly Kissinger, the same guy (l) in this photo with my dad (r). He was at our house several times.
.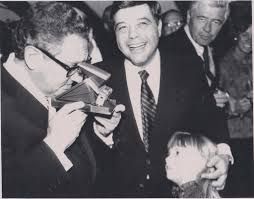 .
214 Nayatt Road, Barrington, Rhode Island 
.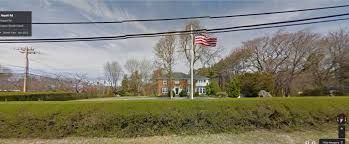 .
Here is an excerpt from an interview she gave, and it regards the "Lucian" (pseudo) referred to in her book:
.
.
| | | |
| --- | --- | --- |
| | Interview with Kathleen Sullivan – Author Of The Book: Unshackled: A Survivor's Story of Mind Control | Love for … | |
.
In Unshackled, Kathleen mentions an elder statesman, "master hypnotist" and paedophile she calls "Lucian," who obtained ownership of several of Kathleen's alter-states while she was still a teenager.
Could you tell us something of "Lucian," and the Luciferian beliefs he shared with you?
Lucian is highly regarded within the ranks of the Illuminati, although his popularity with the public has definitely waned in the past several years. He is a former DC-level politician who, due to the circumstances of his birth, cannot become President [because born in Germany]. 
For that reason, and because he appears to have an extreme, life-long need to wield power and control everyone and everything around him, he has operated in the background of almost every administration since at least the 1970s. Extremely wealthy, he perversely enjoys entrapping and blackmailing politicians and using the "evidence" of their indiscretions to continue to blackmail them throughout their careers.
He especially likes to entrap politicians who claim to be born-again Christians. He told me, more than once, that they are all "hypocrites" and that he is determined to prove that.
He is also not above doing more ugly things to people who get in his way or cause problems for him. The last time I saw him, shortly after Clinton became President, "Lucian" informed me that when "they" have total power over our government (whoever "they" are), he'll have me back with him as his "pet."
Concerning the Luciferian beliefs that Lucian taught me: as a person who did not come from a Christian family, Lucian seemed to be primarily interested in the Old Testament. He told me that he and other Luciferians consider Jesus to have been a usurper, in that Jesus stole Lucifer's rightful position as the true son of God. In a Yin/Yang way, he stated that while Lucifer was thrown down to rule the earth, he has become known as Satan, the evil one, to most people. But Lucian and his associates know him as Lucifer, the light-bearer. This is why they prefer the word, "Illuminati." The "illumined ones." He and others like him have grandiose schemes to develop a one-world religion and one-world government that would originally pretend to tolerate Christianity, but would eventually have all Christians either convert to their more global religion, or face ugly consequences. But of course, Lucian – who is a flaming pedophile – is also convinced that they will be able to convince the masses that adult/child sex should be legalized.
Lucian was one of the few members of Illuminati who seemed to truly hate Christians with a passion. I don't know how that came about.
Like the others he worshipped with, he called the sun, "Ra," and stated that the sun's light, when it comes into our bodies, transforms us to be more like that top God. At one location, they had a wall made of round crystals at least the size of golf balls. They believed that they could stand inside that wall and that the sunlight would somehow be concentrated by the crystals and speed their transformation. He stated that he and others like him would transform into Godlike beings that would rule the world and universe. He also mentioned something I still think is extremely odd, because I've not heard of it from any other source. He talked about what he called "Saint Peter's Net." He stated that as godlike beings, they would form a "net" and capture the energy of others who die and use their spirit-energy to become even more godlike. (In a way, this reminds me of cannibalism and ingestion of blood by some occultists in rituals, to gain the life force of their newly deceased, or dying, victims.)
Some of the Illuminati wives of politicians I was ordered to "worship" with, as a slave, included Greco-Roman religious traditions in their daytime rituals. Forced female-female and adult-child sex was often perpetrated at their rituals. At each of their rituals, at least some of the wives would also have sex with each other. They did not believe in cannibalism or drinking blood. Instead, (this is gross, sorry), they drank semen from the men, after it had been processed somehow to "purify" it. They believed it would also increase their energy. I didn't.
Lucian, who often gave my father orders, was – like my father – since at least the 50's, closely aligned with Nazi immigrants who were brought to the US by the OSS/CIA and U.S. Army. Like my father, Lucian was also into Gnosticism, and truly seemed to believe that by physically suffering and depriving himself of certain pleasures (excluding sex with children) he would become more spiritually godlike and elevated. That didn't seem to keep him and Dad from tormenting and depriving their victims, however. Perhaps they failed to realize that they were also making us spiritually stronger, if their beliefs were true.
.
Did you first hear the name "Maitreya" from Lucian?
.
Did anyone else in the network speak of Maitreya to you?
Lucian was one of extremely few persons in the Illuminati who talked with me, instead of to me. But he only did this when I was alone with him. All of the others seemed to view me as an object, a bought-and-paid-for slave who was of no importance, other than what I could do for them. So, to make a long answer shorter, I have no memory of any of the others discussing Maitreya with me. I have since learned, however, that Lucian has strong connections to Lucis Trust, and so does Maitreya.
According to Lucian, what's Maitreya's purpose?
First, more background about my experiences with Lucian.
I am not claiming that anything that Lucian told me was true. He and the other people who believed they "owned" me did believe, however, that I would never be able to remember what occurred when I was in their presence – including what they said. I had what they referred to as "failsafe" programming. This means that, if all else failed, I was supposed to suicide when the memories started to emerge. Fortunately, I have had a succession of competent therapists who have kept me alive whenever suicide conditioning kicked in. (Usually, when I had to be hospitalized to keep me safe until I worked through the program, I was diagnosed as having "major depression with suicidal ideations.")
Because I was considered "failsafe," and because Lucian was a master hypnotist who was proficient in mind control, he seemed quite confident that I would never remember him, let alone talk about what he told me. As a pedophile and abuse survivor (I can't go into that further), he seemed to have great difficulty socializing comfortably with other males. This may have been one of the reasons why he, unlike most of the other slave-owners, chose to "teach" me, from my teenage years on, what he believed was really going on in the world and in politics, and even in specific politicians' lives. This included "their" plans for Maitreya.
He basically told me that Lucis Trust is really a springboard for the Illuminati's eventual creation of a one-world religion. He stated that they were using Maitreya, who Lucian said was a master hypnotist and was already performing documented faked "miracles," to convince the "masses" that Maitreya was the second coming of Jesus. Lucian and his associates sometimes discussed the possibility of using other smoke-and-mirror techniques, including holographs in the sky, to convince the "cattle" (he had serious disdain for anyone "lower" than himself, socially) that Jesus had returned, and that other parts of the Bible's Book of Revelations were also occurring.
Lucian said that if "they" were successful, then those among the masses who believe in the rapture would give up everything and just sit and wait for it to occur. He said that those people would be "easy pickings."
He also said that Maitreya was being mentioned as the possible figurehead for the new one-world religion, which they hoped to center in Rome. Again, these were things he said over a decade ago. I don't know how much of it, if any, was true – at least to him.
.
***
The fact that I survived this — worse things actually than Sullivan — is a miracle like Hitler surviving this (see especially the look on his face at 1:33, when he realizes a miracle just happened, and it was, because Tandy killed 19 men that day — and got the Victoria Cross for it)
The World Wars: A British Soldier Spared Hitler's Life (S1, E1) | History

In this scene, a young Hitler finds himself in the sights of a British soldier during WWI. Subscribe for more Th…
And there were other things Hitler survived in WWI. They show that if we are doing the Will of Heaven, and not engaging in foolish risks (like John Kennedy going to Dallas in an open-top limousine), angels really do watch over us.
.
In WWI, Hitler was sitting in the trenches eating lunch when suddenly a voice told him to get up immediately and move. He just listened to this voice and moved 30 feet away, and around the bend of the trench.
.
Thirty of his fellow soldiers were vaporized by a direct hit from an English shell.
.
In his first assault in 1914, they had 80% casualties, but he survived.
.
I know you saw this blog I did on running into my WWI girlfriend in Boston:
.
.
It is great to know there is life after death, and internalize this truth.
.
I feel sorry for those who fear death when what they should fear is their own karma as selfish fools and despicable cowards.
.
If Trump does not sell out on the key issues, he will be killed, and then hell will break loose.
.
Those who read my final plea for funds and did nothing (which is 99.99% of them) need a religion to train them to do the right thing. All their thinking is poisoned now.
.
In the same way, Marine boot camp is needed – three long months of it – to turn American teenage brats into magnificent warriors.
.
The Marines are called "a cult that works."
.
marines-carry-buddy-up-snowy-mountain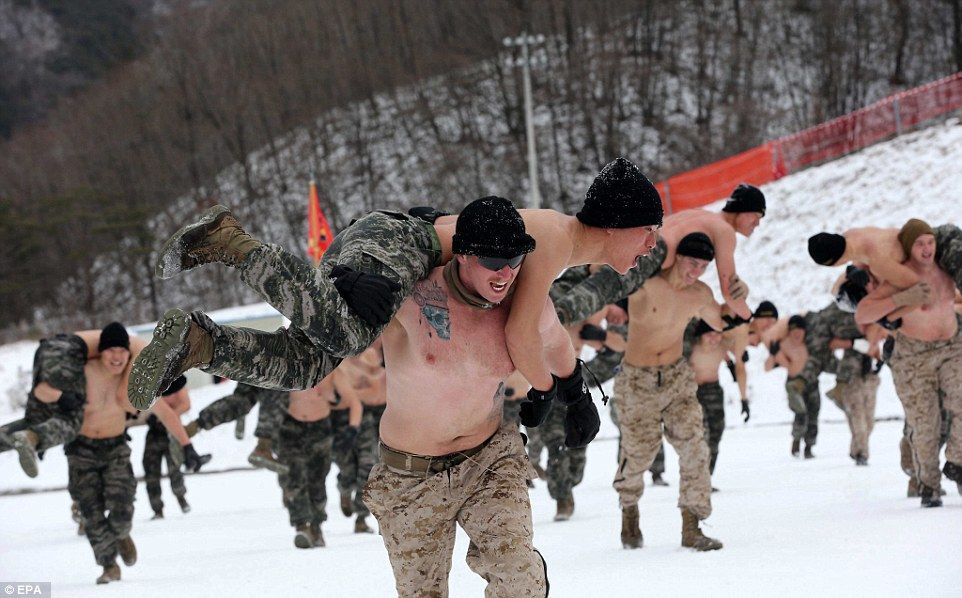 .
It will be a Marine Corps religion – to
make men,
and women will join, glad to see real men again. 
.
Thanks again for all,
.
John
.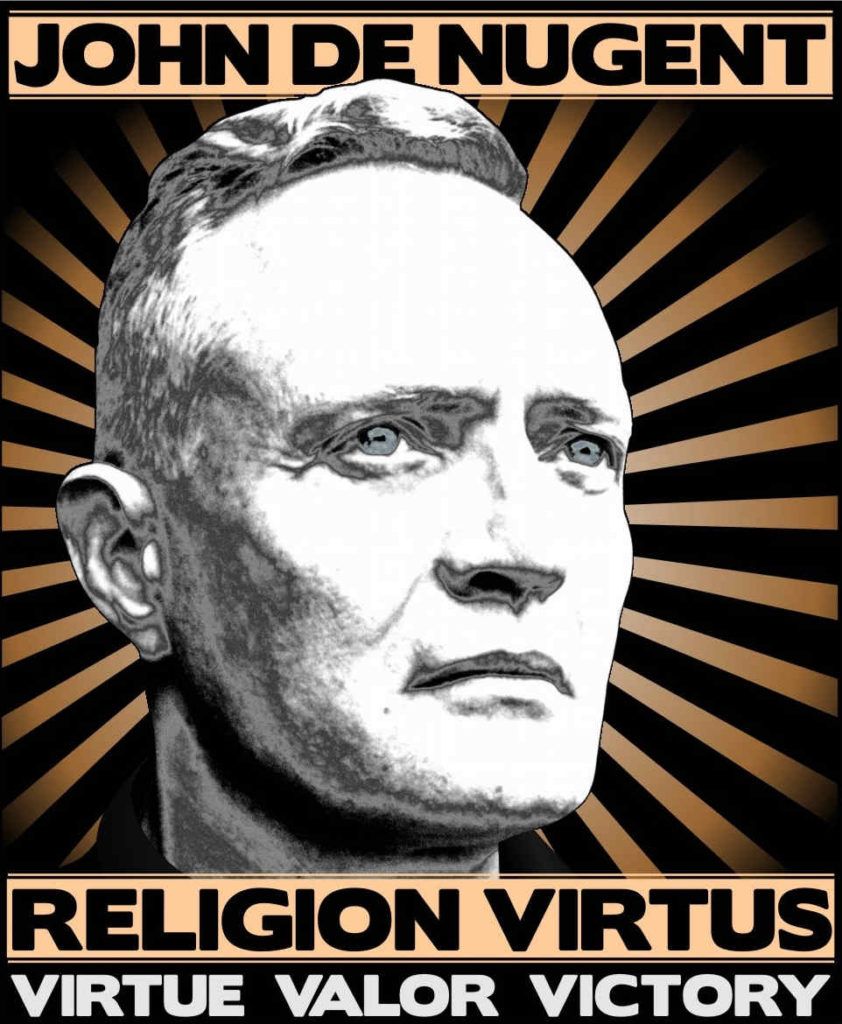 Please right-click on this audio to play the music in a new tab while you read.
John de Nugent
306 S. Steel Street
Ontanagon MI 49953
+1 (906) 884-6689 😉
VK.com https://vk.com/id351111810
Skype: John de Nugent (Ontonagon)
JOHN_DENUGENT@YAHOO.COM
THEJOHNDENUGENT@GMAIL.COM
Need secrecy? Then start a Hushmail.com
or safe_mail.net account and then send me @yahoo.com
your new secret email address.
  Facebook: https://www.facebook.com/john.denugent.3 
Twitter at John de Nugent @johndenugentESA
winter
…How to donate & recent donors
Financial transaction certified by Stripe.com and SSL certificate. Pls donate $5 or more. Thank you!
I KNOW A FANTASTIC PRO-DISSIDENT WEBMASTER & WEBHOST IF YOU NEED ONE AND CAN PAY A REASONABLE $100/MONTH — BACKUPS; ANTIVIRUS; FAST PAGE OPENING; SEARCH ENGINE RANKING; YOU NAME IT. Write me if interested.
This log is to confirm to those who send me useful items –cash, valuable coins, checks
, money orders, books or other gifts — that I did receive them.
If you sent a donation and I did not get it, please let me know at the email address john_denugent@yahoo.com, or at thejohndenugent@gmail.com, or by calling me at (906) 884-6689, or writing me (see below) on Skype!

summer
.
winter (Marine EGA – eagle, globe & anchor – in the window)
I had to take this springtime pic before I cut the lawn. 😉
2 MILLION hits on Google
–checks to "John de Nugent"

–cash in a greeting card (or aluminum foil)
—US postal money order (or Canadian postal money order in US dollars)
even with a fake return address (no risk there!)
IF YOU SEND CASH OR COINS, WRAP THEM IN ALUMINUM FOIL!
—Amazon gift card
Send an Amazon gift card by email to john_denugent@yahoo.com
First, go to Amazon.com (not Amazon.co.uk or Amazon.fr or any other Amazon site)
Then click on "Gift Card" on the top of the page, followed by a click on "Email" at the "Ways to Send" menu.
Finally, choose a card and amount. That's it!
–Paypal
TO
MHUFFSTICKLER@OUTLOOK.COM
I and Margi since 2005
Many supporters have contacted me asking if there is a quicker and easier way to donate to my work. The good news is, yes there is.
If you already have a Paypal account, you can get a PayPal reload card, and then send me by email or phone call the numbers off the back and amount.
(Ask me then for the proper email address for Paypal — they banned me  — and Andrew Anglin and others — BUT I have several friends with PP………….. 😉 )
Or get a PayPal account yourself and send funds that way. Rather than filling out forms and re-inputting your card details over and over again, you can donate simply by providing your email and password.
Yes, it really is that simple. The solution is to set up a personal PayPal account. You will only have to input your details once and then attach your credit/debit card to your account.  When making a donation in the future, you only need your email and password and it is all done automatically.
It's quick, easy and hassle-free – no more filling out endless forms. Please set up a personal PayPal account here:
https://www.paypal.com/webapps/setup-paypal-account/onboarding?execution=e2s1
Once your account is set up, please go to the "Wallet" section and add your credit/debit card and then enjoy the ease and speed of contributing to my Solutrean work in the future.
 –sending valuable jewelry or gold coins
–Vanilla gift card
From a fellow fmr Marine, this "Vanilla" Gift Card for $50: "John, Happy Christmas and Bright, Prosperous and Healthy 2017! — P[]"
–Moneygram or Western Union outside the US (also pls send an email with the number and AMOUNT)
–SECRET EMAIL COMMUNICATION
+++++
I need your financial help to WRITE MY SACRED ARYAN SCRIPTURE FOR US AND OUR TIMES. Others have been making big sacrifices. How about you?
What is my religion based on?
http://johndenugent.com/eternal-solutreanism/
***
–27 December 2016 via Stripe from G in Montana
–21 December 2016 gift card from S in Florida
From a fellow fmr Marine, this "Vanilla" Gift Card for $50: "John, Happy Christmas and Bright, Prosperous and Healthy 2017! — P[]"
–19 December 2016 PayPal from R in the Netherlands
–19 December 2016 cash and a Christmas card and note from B in Oregon
–16 December 2016 Donation of exactly $88 😉 via Stripe from JF with this notation:
Merry Christmas, John! To the man who gets calls from the White House, visits from the feds, and shut down more than anyone
—-12 December 2016 book and videos on Christ from a new and interesting perspective, written by a fmr Marine, and sent to me by P in New Hampshire
–12 December 2016 Book on early whites in America, including white copper miners in the Bronze Age — right here in Ontonagon 3000-1200 BC — sent by S in Idaho

–9 December 2016 cash from S in Germany
–2 Dec 2016 delightful box of home-baked goods and donation via PayPal (to mhuffstickler@outlook.com) from a Bavarian (in Germany)
Look at that evil bird on my monitor desktop  😉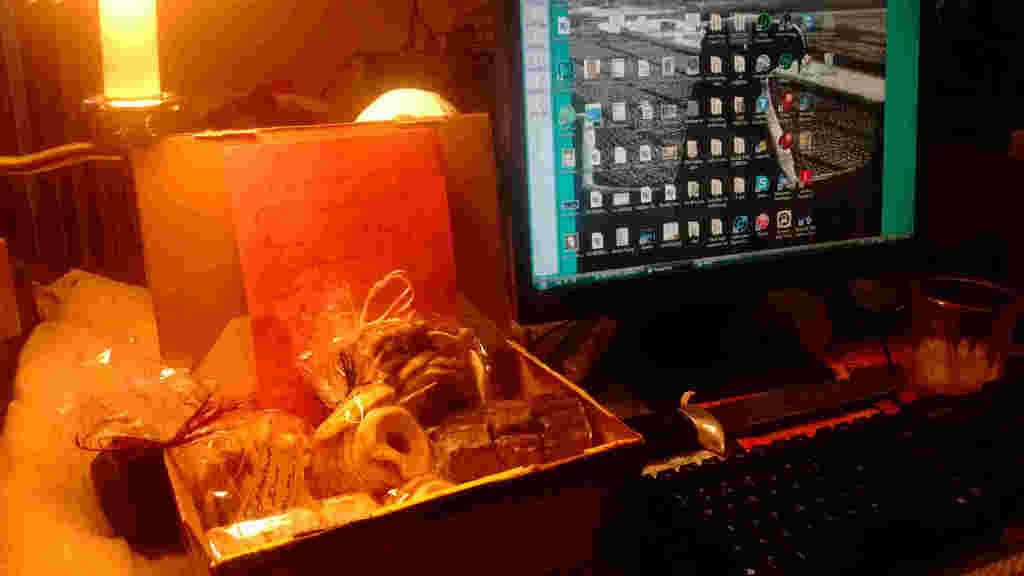 You can see my Snowball mike for recording audiobooks, such as Captain Ramsay's The Nameless War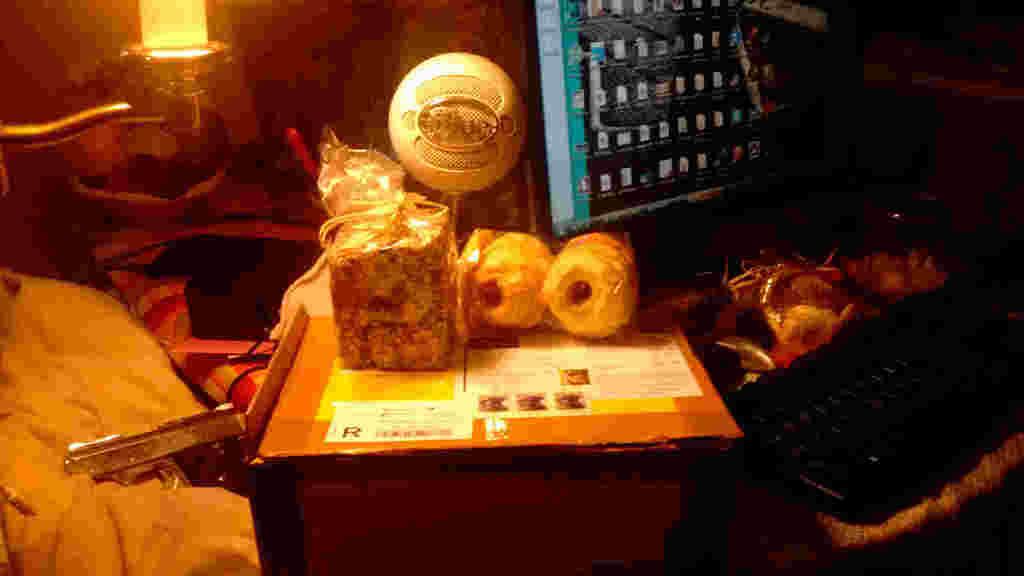 All lovingly handmade in Bavaria, where national socialism began, and based on healthful muesli. What a great present! 
–1 Dec 2016 cash from M in Massachusetts