by Carl Mason – Resistance Radio co-founder and Liberty Defender team Leader
There is a contradiction at the heart of the Greens in every country they spew their lies.
They call for "progressive social change", but they want it in the context of a hypocritical model whose capacity to pay for reform is becoming less and less. They know the damage done by said reforms does more harm than good, increases pollution, immigration, and energy costs (freezing the poorest people in this country to death) all while suppressing wages, yet they continue to promote it.
If only there were less people, the world would be better" they say while promoting open borders. "We need to preserve our green belts", they shout, while they demand houses are built for the immigrants they claim we need. As long as the newcomers are nowhere near them of course, they will be happy. Stick 'em with our underclass, force both sets of people to pay more to heat their homes, while telling both parties to get along with one another is helping Tommy, Rahee, and the Zionist warmongers drive us into a race war.
The aforementioned madness is all part and parcel of the greens disastrous, calamitous and egregiously hypocritical mantra.
But there is a problem here even for the Greens. People are catching on.
On a recent podcast we did Jack Sen Said this about the Greens
"It doesn't take a rocket scientist or climate change charlatan to figure out that with more migrants comes more greenhouse gases from the increase in cars, the number of animals needed to feed the newcomers, the pollution generated, natural resources exploited and natural landscape destroyed building all those new homes etc. How can they, as hypocritical as they are, justify their policy on immigration when many in their own party have recognised immigration and resultant corporate growth increases co2 emissions." Jack Sen on a recent Resistance Radio podcast.
Well, they can't for much longer.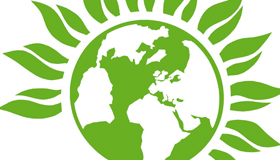 Taken from a recent podcast discussing Green hypocrisy and Worcester Green Party Councilor for Worcester, Louis Stephen
"A good example of the hypocrites in the Green Party is Worcesters Green councillor, Louis Stephens. Year in and year out he declares he has no income. His wife hasn't declared her income either for years it appears from my research. Yet these two socialists who year in and year out fight to increase the council, green, energy fees and tax we pay to keep our heat on in the winter and petrol in our cars own a large home as well as a flash second home that they rent out.
Councillor Louis Stephen is also, as expected, a Remain supporter-one who gushes over his party's open borders policy and support for the corrupt European Union. Along with the view that there's no such thing as an illegal immigrant, as from what I have seen – his tenants are predominately migrants on benefits – the man is also on Worcesters planning committee. A group of morally bankrupt individuals thar want to concrete over our landscape with more housing for migrants while feigning compassion to the environment. Louis Stephen you're a vile excuse for a human being."
And immigration's impact on the environment is just the tip of the proverbial iceberg. Mass importation of cheap labour, and that IS what it is when it comes down to it, also harms our nations poorest people-people the Greens claim they care about. Not only that but it harms poor across the world.
Mass migration between economically disparate countries results in a brain-drain from the poorer to the richer country. Are we really helping Poland, Lithuania etc by stripping them of their brightest and best? The greens supposedly care for undeveloped nations. Why destroy them by taking their best and brightest?
The Greens also apparently care about people's ability to earn a fair wage. Immigration suppresses wages. This is why the biggest fans of opening our borders are multinational and British corporations. So much for the Greens and Labour helping the working classes….
Although one would expect the Greens and the left to revisit their hypocritical support for open borders, they wont.
But the Greens hypocrisy on climate change, immigration etc is the tip of the ice berg. One need only look at the people running the Greens to see these people for what they really are.
A 2013 Daily Telegraph article reported on the regret felt by Jürgen Trittin, co-leader of Germany's Green Party, who in 1981 authored an election pamphlet, calling for the decriminilisation of paedophilia.
Mr. Trittin, a former -German Environment Minister, recently held a Press conference in Berlin, claiming responsibility that "these mistaken demands endured for so long. This position is false, was false and lasted too long."
He was, at the time the pamphlet was written, an activist for the Green Party and became regional MP for Lower Saxony. Their demands were withdrawn in the 80's due to opposition, but this recent revelation will haunt them for a long time-it has seen their popularity drop dramatically in the polls-and rightly so.
The Greens have set up an inquiry into their links with paedophile groups as a result of Green MEP, Daniel Cohn Bendit's endorsement of sex with children. In a 1975 book the MEP claimed sexual interaction with children while working at a kindergarten. His remarks came to light when he was awarded a prize by the Theodor Heuss Foundation in Germany. They did a good job of checking his credentials first!!!
Into every corner of public and political life these evil people have infiltrated their disgusting views and behaviour. But how many children must have suffered and are still suffering due to the Liberal/Leftist backed ideology of these depraved individuals. This is just one example of the depravity, sanctioned and allowed to proliferate.
The Green Party seems to be suffering a similar malaise in this country, too. In a Worcester News article from March 2017, an ex-Mayor of Malvern in Worcestershire and former Green Party District Councillor, Julian Roskams, has received a suspended jail sentence for downloading more than 1000 child porn pictures. He was a respected man in a position of power and trust. "The crimes he has committed-according to a statement by the NSPCC-cause such damage to children's lives."
The lessons to be learned from these abhorrent revelations about the abuse of power and trust by a person in public office simply demonstrate that with time the integrity and morals of such individuals have sunk to new lows. We can no longer trust the institutions of our once proud nation-more than a thousand years of history which have been eroded over the past 20 years due to liberalism and forces working from within to destroy us.
One of the most upsetting aspects of the way the importance of our history has been forgotten or diminished is the distortion of news or downright neglect in covering factual events. The media and in particular the liberal/politically correct, biased BBC, have been complicit in this.
I, personally, had never heard of the terrible fate met by British forces in Palestine after the end of WWII. Why has this important and shocking event not been recorded or reported on, I wonder?
Between November 29, 1947 and June 1948 214 British servicemen lost their lives, including the 28 who perished when the Stern gang blew up the Khantara to Haifa Express at Rehevot on February 29, 1948.
The media ignore the Palestine Mandate for the most part, and veterans from this conflict are mostly ignored on Remembrance Day. How sad, and how resentful those veterans must have felt, having served their country faithfully!
Due to the efforts of a local historian in Haifa the graves of the Palestine Policemen were recently discovered, and a ceremony was held in 2012 in Nazareth where new headstones were unveiled.
This whole affair is even more poignant due to the fact that many of these servicemen were killed by a people they had helped liberate from Nazi Germany. Where was their sense of gratitude, I wonder?
Yet more of our history and the true facts were hidden from us for so many years. A year ago, MI5 released files from the 1940's that show that London was under terrorist threat from Zionist groups fighting the British after WWII to establish the State of Israel. One such terrorist group, led by future Israeli PM and Nobel Peace Prize winner, Begin, blew up the HQ of the British administration in Palestine with heavy loss of civilian life and much damage. Another group, the Stern gang, had cells in London, carrying out bombings and assassinations. Luckily, their attempts to blow up the Colonial Office in Whitehall failed as the device was not fused correctly.
The Israelis had a history of engaging in terrorist activity in Britain and our beloved politicians were aware of it-they, like those today, were too scared to blow the whistle because of fear of anti-Semitism. Sounds familiar, does it not? The Stern gang were so anti British ,that they actually met with Nazi officials in Beirut to obtain weapons to kill British personnel .They met with German military intelligence on two occasions in 1940. This proves where their loyalties were. The Stern gang sent letter bombs the the US President Mr Truman, the British politicians Atlee, and Bevan. The letter bomb sent to Churchill was intercepted at the sorting office before it was delivered.
Of course, no one political institution or party has the market cornered on hypocrisy. The Tories are apparently for individual freedom yet are made up on an authoritarian Neocon Home Secretary and people like Anna Subry, behind the current war on our free speech. Labour calls for individual freedoms for fringe groups while shouting people like me to be silenced. Like the Greens they were hardly keen on hearing about same sex rapes in their party or grooming gang madness across the length and breadth of this country.