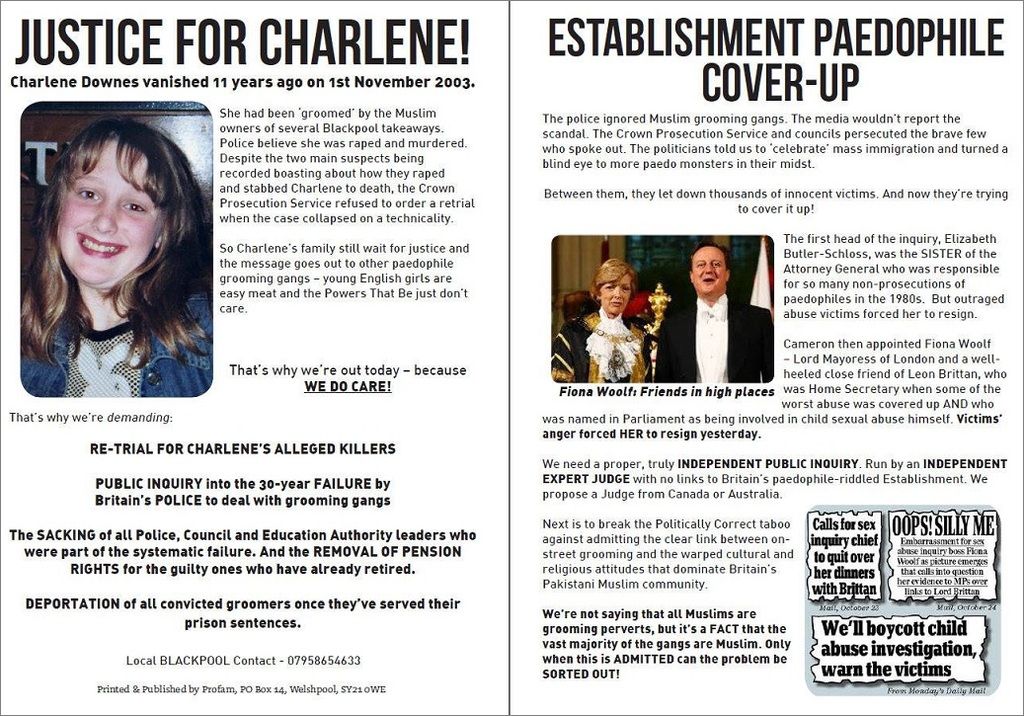 .

https://en.wikipedia.org/wiki/Disappearance_of_Charlene_Downes
Disappearance of Charlene Downes
From Wikipedia, the free encyclopedia
Charlene Downes

Born
25 March 1989
Disappeared
1 November 2003 (aged 14)
Blackpool, Lancashire, England
Status
Presumed dead
Died
c. 1 November 2003 (aged 14)
Residence
Blackpool
Nationality
British
Height
155 cm (5 ft 1 in)
Charlene Downes (born 25 March 1989 – disappeared 1 November 2003) was a girl who lived inBlackpool, United Kingdom, her family having moved there when she was 10 years old. She disappeared aged 14 years old.[1] Police initially treated the case as one of a missing person, although their enquiries revealed she had probably been a victim of sexual abuse near the location where she was last seen. She is now believed to have been murdered.[2]
A jury failed to reach a verdict in the trials of two men, one accused of murdering Downes and the other of disposing of her body.
Mohammed Reveshi and Iyad Albattikhi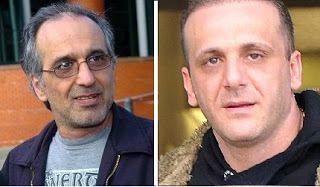 A re-trial ended with not guilty verdicts when the prosecution withdrew the charges. There have been no convictions in relation to the disappearance of Downes.[3]
Background to disappearance
[
edit
]
Downes was born on 25 March 1989,[4] to Robert, a former soldier, and Karen. She had two sisters and a brother, and they lived in Buchanan Street, Blackpool.[5][6][7] The family had moved to Blackpool from the West Midlands in 1999.[8] Downes was educated at St. George's School, Blackpool. She was described in court as "well and happy" but had adopted a "chaotic" lifestyle after being expelled from school, frequenting the area around Blackpool's Central Promenade.[9][10] According to an internal police report that somehow became public, Downes was one of 60 local underaged girls, some as young as 11, who had been groomed to carry out sex acts.[10][11][12]
Last sightings
[
edit
]
In the early evening of Saturday, 1 November 2003, 5 feet 1 inch (155 cm) tall Downes, who was aged 14 at the time, kissed her mother goodbye. Downes said she was going to meet friends on Blackpool Central Promenade where the town's amusement arcades are located.[13] She was spotted last in Abingdon Street and the back of Clifton Street. She is now believed to have died within hours of these sightings.[10][14][15][16]
Police response
[
edit
]
After the disappearance of Downes, a police report identified her as one victim of a widespread pattern of sexual abuse. Although the sexual abuse she was believed to have been subjected to had centred on certain fast food shops in the promenade area, which is where she was heading when last seen, police continued to consider her as a missing person rather that a murder victim for more than a year.[2] The search for Downes as a 'missing person' came to involve a large police team. The case became one of Lancashire longest lasting investigations involving a child gone missing from home, before police started to treat it as a murder, reportedly after information about the circumstances of her disappearance "leaked out" to the public.[17][18]
Murder trial
[
edit
]
Following the decision to start treating Downes disappearance as a murder, there were a number of arrests in the case. In 2007 two men were put on trial. The prosecution alleged at Preston Crown Court that Charlene Downes, 14, was killed by Iyad Albattikhi, a 29-year-old man from Jordan, the owner of "Funny Boyz" fast-food outlet in Blackpool.[19] Mohammed Reveshi, Albattikhi's business partner, was accused of disposing of her body. According to the prosecution, the defendants had sex with Downes.[20] The prosecution alleged the men spoke of disposing of her body by putting it in kebabs sold from a fast food outlet.[2][21]
The jury failed to reach a verdict, and at a re-trial the prosecution withdrew the charges.[22]Both defendants were freed and given compensation for false arrest of around £250,000.[1][2][23]
There has not been another prosecution,[1] though Albattikhi has been prosecuted for other crimes against young English girls.[24]
After a critical report by the Independent Police Complaints Commission, one of the detectives involved, Det Sgt Jan Beasant, was found guilty of misconduct by Lancashire Police and told to resign, but the Police Arbitration Tribunal overturned the decision.[25] In 2014 it was announced that Beasant was suing police for up to £500,000.[26]
Subsequent publicity
[
edit
]
The trial brought to public attention what The Guardian described as "endemic child sexual abuse".[2][11][27] The Daily Telegraph reported that Mick Gradwell, a former detective superintendent with Lancashire Police, had told another newspaper that the investigation into sexual abuse in Blackpool was being "hampered by political correctness".[28] In a July 2013 blog post for the website of The Telegraph, journalist Sean Thomas noted that the original Charlene Downes article on Wikipedia had been deleted. He claimed this had happened in a way which might indicate editorial bias as to "racialised" murders of white victims, which, supposedly, receive less media coverage in comparison to similar murders of black and ethnic minority victims.[29]
In May 2014, with the cooperation of Karen Downes, an independent documentary, 10 Years Lost, about the disappearance of Charlene and the effects on her family, was released.[30]
The case was the subject of BBC One's Panorama "The Girl Who Vanished" programme on 10 November 2014.[31] In December 2014, as part of the BBC Crimewatch programme, a £100,000 reward was offered in the investigation.[32]
In February 2015 Charlene's 21-year-old brother, appeared in court and admitted harassing the man who had faced a charge of helping to dispose of Charlene's body. [33] Also in February 2015, Charlene's 24-year-old sister, Emma was charged with the racially aggravated assault of the brother of the man cleared by the court of murdering Charlene- the individual had approached her in a nightclub and taunted her with claims of his brother's innocence.[34][35] In February 2015 Charlene's mother was attacked by another one of her daughters[36] and was attacked by a web stalker.[37]
See also
[
edit
]
References
[
edit
]
Charlene Downes'father was a fmr soldier a "Tommy Atkins" whom the half-Jew British ruling class has always exploited. It reminds me of the Kipling poem "Tommy":
.https://www.youtube.com/watch?v=wzLjkIKWH6c
Unbelievable:
I am creating a new Aryan religion because it seems nothing else will wake up a nation that lets its daughters be raped and killed and does nothing.
.
Instinct is just not as strong as we thought.
.
In animals it is, maybe in negroes and Chinese it is, but not in white humans.
.
Brainwashing can cancel even the most basic instincts out. Every incident of an English girl raped and murdered by mudlims should lead to a pogrom and bodies swinging from lampposts.
.
We need something new that will fire us up. Back in our past there would have been white mobs with torches and pitchforks.
.
….Contact and support
John de Nugent
306 S. Steel Street
Ontanagon MI 49953
+1 (906) 884-6689 😉
VK.com https://vk.com/id351111810
Skype: John de Nugent (Ontonagon)
JOHN_DENUGENT@YAHOO.COM
THEJOHNDENUGENT@GMAIL.COM
Need secrecy? Then start a Hushmail.com
or safe_mail.net account and then send me @yahoo.com
your new secret email address.
  Facebook: https://www.facebook.com/john.denugent.3 
Twitter at John de Nugent @johndenugentESA
PayPal to mhuffstickler@outlook.com