…..Carlos Porter is clearly pandering to the Jews
WN Carolyn Yeager constantly uses Porter material. https://www.google.com/search?q=carlos+porter+carolyn+yeager&gws_rd=ssl
Porter panders to Khazaria in three ways:
attacking me, which the Google jews obligingly put on page one,
he defends the horrible child murderer Leo Frank
He blames the innocent patsy Lee Harvey Oswald instead of the Israelis for the JFK assassination
http://www.cwporter.com/letter29a.htm
Not only have I and many others destroyed every pro-Frank argument ……
Porter, who defames me (a ferocious enemy of the Jews whom Heidi Beirich of the SPLC calls "so extreme") defends the anal-sex fiend Jew Leo Frank, whom 19 white women accused under oath of sexual harassment. Even all three JEWS on the grand jury voted to indict this Hebrew!
Frank raped and murdered the child laborer Mary Phagan in 1913, then tried vilely to pin it on two different black employees of his. This slander, if believed, would have meant for either negro their certain death by lynching in 1913 in the Deep South. But Porter agrees with the jewsmedia that Frank was innocent.
Mary Ann Phagan 1899-1913, strangled on Confederate Memorial Day
The top citizens in Georgia lynched this vile pedophile Khasar. Here is my hit video on the case, and other shocking items from our times:
.
….Porter, the teflon WN
.
How "interesting " that Porter, who lives in the UK and in Ireland, which both have hate-speech laws, and is obsessed with hating the blacks (even anti-Jewish, pro-white blacks), dares use his all-time favorite word, "nigger," in print three times on that one page.

nigger, nigger, nigger
"If they wanted to lynch Frank, well and good, but why the hell didn't they lynch
the nigger

too?"
"They were undermining their whole position as the dominant race in the South by believing the testimony of this thieving, lying, drunken
nigger.

Every Southerner's nightmare and every lyncher's dream. So they lynch the Jew and let the

nigger

live until 1947[….]"
Just like he uses "nigger" and "koon" over and over in his attack on me for having used black volunteers who are PRO-WHITE AND ANTI-JEWISH.
Koon, nigger, niggerbridge, nigger…..
How ever does our dear Senor Carlos get away with it?
My free webmaster from 2009-11, the six-foot-five Clark Lightbridge from L.A. half-Eritrean and half-Egyptian, who helped me switch over to Linux and other less hackable computer systems. Porter wrote me: "I just want to know what is this thing you have for black cock?"
Does Porter actually have Jewish "friends in high places" (who use this "useful idiot" — in Lenin's phrase) ?
In Ireland, near Dublin, where Porter lives now, thanks to his friend Tony, the law says this:
Certain kinds of hate speech are prohibited under the Prohibition of Incitement To Hatred Act, 1989 (although Section 10 of the Defamation Act 2009 may also be relevant).
The relevant section of the 1989 Act is Section 2;2.
—(1) It shall be an offence for a person—
(a) to publish or distribute written material,
(b) to use words, behave or display written material—
(i) in any place other than inside a private residence, or
(ii) inside a private residence so that the words, behaviour or material are heard or seen by persons outside the residence,
or
(c) to distribute, show or play a recording of visual images or sounds,
if the written material, words, behaviour, visual images or sounds, as the case may be, are threatening, abusive or insulting and are intended or, having regard to all the circumstances, are likely to stir up hatred.
.
In the UK, the law says:
In England and Wales the Public Order Act 1986 prohibits, by its Part 3, expressions of racial hatred, which is defined as hatred against a group of persons by reason of the group's colour, race, nationality (including citizenship) or ethnic or national origins.
Section 18 of the Act says: In England and Wales the Public Order Act 1986 prohibits, by its Part 3, expressions of racial hatred, which is defined as hatred against a group of persons by reason of the group's colour, race, nationality (including citizenship) or ethnic or national origins. Section 18 of the Act says:
A person who uses threatening, abusive or insulting words or behaviour, or displays any written material which is threatening, abusive or insulting, is guilty of an offence if—

(a) he intends thereby to stir up racial hatred, or (b) having regard to all the circumstances racial hatred is likely to be stirred up thereby.
Offences under Part 3 carry a maximum sentence of seven years imprisonment or a fine or both.[6]
But Carlos, he no get no seven years, senor!
,
……..Here Porter defies fifty years of WN debunking of jewsmedia and says Oswald killed Kennedy!

OMG!
Michael Collins Piper proved decades ago the Israelis did it, because Kennedy blocked them from getting nukes.
. .
As my longtime friend R told me:

Re Kennedy killing: sights of the Mannlicher rifle were also defective and Oswald was seen and photographed on ground level as Kennedy's car came around the corner to the Book Depository. He could never have got the shots off or hit Kennedy and 6 or 7 shots were fired altogether.

Oswald had even warned the FBI 2 or 3 days before the event. Kennedy's head was hit from front; the exit wound blew out his brains to the rear. The fatal shooter was at the grassy knoll.

The Zionist conspirators around Clay Shaw in New Orleans farmed out actually killing to the Marcellos family, to crack shot Ed White. (I used to have coffee in Mandeville with his ex-wife Michele. He liked Duke and got rid of M.L.King, too. Jews regarded King as a "loose cannon" for planning to support cause of PLO as fellow "people of color.")

Jack Rubinstein ("Ruby") killed Oswald to prevent him from talking and proving his innocence.

Oswald also had no "powder burns" on him and could not have killed officer Tippet either. The protocols of Oswald's interrogation while in police custody were also never kept or destroyed. Oswald may have been trying to get to Ruby's house as he was arrested only 2 blocks from Ruby's house.

There were many witnesses who corroborated Oswald knowing and meeting often with Ruby at Ferrie's home.

Not surprisingly, the head man of the Secret Service was sent on a flight to Antarctica on the day of the assassination. They put very few people on the ground in Dallas and did not insist that [building] windows [along the motorcade route] be shut.

Also, good old "Tricky Dick" Nixon was in Dallas on that day. Coincidence?
But Carlos Porter

(agreeing with the Warren Commission, which also ordered America racially integrated, and banned school prayer, etc., etc., etc….)

say the Jews didn't do it, the "commie Oswald" did!
German-genocider Eisenhower is all smiles with the hyper-liberal, anti-segregationist and Swedish-descended Earl Warren, California governor whom Ike soon made Chief Justice of the Supreme Court in 1953. https://en.wikipedia.org/wiki/Earl_Warren Carlos Porter supports the Warren Commission's flagrantly erroneous finding that Oswald killed Kennedy, which 80% of the American people doubt and have since 1965, when Mark Lane's bestselling Rush to Judgment came out.
.
And he claims the Italian Mannlicher rifle which the Jews and FBI planted to frame Oswald in the Texas Book Depository was an "excellent rifle."
Yes, indeed, it was a top-of-the-line bolt-action rifle back when Queen Victoria was on the throne — in the year 1891!
https://en.wikipedia.org/wiki/John_F._Kennedy_assassination_rifle https://en.wikipedia.org/wiki/John_F._Kennedy_assassination_rifle
But NO ONE except a nut or sellout could claim you can use a bolt-action rifle to get off two accurate shots in four seconds to John Kennedy's throat and head in a moving limo while shooting through tree branches!
Watch from 5:57 to 6:01, four seconds, 1) the throat shot and then 2) the killshot to the head, and clearly Kennedy's head is thrown backwards, meaning the bullet came from the front! But Senor Porter says Oswald shot him from behind — twice in four seconds!
.https://www.youtube.com/watch?v=V-LA0ypFXig
https://www.youtube.com/watch?v=V-LA0ypFXig
Test-firing this ancient Mannlicher rifle (Austrian version, but it was all the same; the rifle was sold under license to various countries, such as Italy):
.https://www.youtube.com/watch?v=iSprxuaPhuU
All bolt action (pulling back the bolt, popping out the empty cartridge and vigorously sliding a new bullet in) requires stopping, jerking the rifle around, and thus a very slow resighting!
And every gullible lowlife who likes Porter gobbles it up.
…..The worst crime is this: Carlos Porter sapped the desire of WNs (including a key erstwhile supporter in Ireland) to support me when I had picked out carefully the only two winnable races for a WN in the entire United States, and

I was willing to run and risk my very life for our race:
1) for sheriff in 2013 in 98% white, rightwing, black-hating Armstrong County
….and 2) in 2014-2016 in Apollo, Pennsylvania, where every family had lost loved ones to the horrible disease of cancer due to the Jews.
For that deliberate sabotage Porter's karma is unfathomably dreadful.
I had the perfect races chosen, and I was a proven and, by any objective lights, potentially good candidate — not a tatooed skinhead or sieg-heiling Nazi living in his momma's basement — but a smooth, educated, well-spoken man with a Marine Corps background, grown and successful children, an attractive WN woman as my mate,
Margi
….and I knew the local Pennsylvania issues and I knew the local people.
My father was born in Pittsburgh and was raised in that general area. My great-grandfather Waddell, who raised my father, had a big Ford dealership on the border with Armstrong County.
And Porter helped the Jews ruin both races, because

I could not raise anything close to sufficient funds.

And it was the

fault too of those who believed him,

and who even

wanted

to believe him out of envious hatred of me, instead of checking with me out of sheer fairness to hear my side of the story.
.
Attacks WNs and defends Jews to stay out of jail in countries with hate-speech laws.
He can't go back to America because, as he admits, he (insanely) renounced his American citizenship. Now he is at the mercy of the Jews and the hate-speech police.
.
. .
……My race for US Congress in 1990
from WHITE NATIONIST Biography of John de Nugent
https://www.johndenugent.com/wn-biography-of-jdn/
Around July 1989 de Nugent moved to Metairie, Louisiana to study the electoral victory of pro-white State Representative David Duke, staying in Louisiana until the late spring of 1990, and was in a relationship 1989-91 with one of Duke's former lady friends.
David Duke in the 1990s
In June-August 1990, de Nugent, using the campaign name "Jack Nugent," ran in the Republican primary for Congress in the Sixth District of Tennessee, south and east of Nashville, on a pro-white platform. He achieved 26.7 percent of the vote, albeit de Nugent suspects that massive electronic vote fraud denied him an outright victory on primary day, August 10, 1990.
See 9:58 to 19:02
A screen shot of the TV results before the fraud was complete; Nugent at 30% in a three-man race (Cochran at 37% and Embry at 33%)
He received extensive local publicity and references to his race were made by Time and the op-ed page of the New York Times.
. .
WMZ-TV, Nashville, the then largest TV station in Tennessee, seen also in Alabama and Kentucky, broadcast stories constantly about the race. Here anchor Jeff McAtee.
*** ***
De Nugent wrote in 2013 to a Texas friend named Ray:
When I ran for Congress in 1990, in Tennessee, I was a "damn yankee" (northerner) and from microscopic Rhode Island! I had barely set foot in that southern state and yet wanted to be their congressman.
Rhode Island ("RI") in the upper-right of this map is a tiny state, 35 miles east-to-west and 60 miles north-to-south, no bigger than a county in Tennessee.
It is a true Southern tobacco and cotton state that was home to President and war hero Andrew Jackson, to Confederate cavalry hero Nathan Bedford Forrest, to Memphis barbecue and to Elvis Presley. It was a segregated southern state, and Martin Luther King was assassinated here in 1968.
Statue of Nathan Bedford Forest, a brilliant and fierce Confederate cavalry general, in Memphis, Tennessee, with myself and Margi in November 2008
BUT in Tennessee just 50 signatures were enough to put me on the ballot, and the district was then 92% white, and, most of all, Southerners have been overtly racial in their identity since the six-state Confederacy broke away from the US in 1861.
In 1990, however, it was exactly like a Protestant Orangeman from Northern Ireland waving a Union Jack flag and wanting to become the prime minster of Catholic southern Ireland! He would be seen as an invader and traitor! And with me not even being a former Klansman and thus at least a southerner but instead a "Nazi" and thus a kind of "Germanized American," for them I was a quasi-foreigner as well as a "damn-yankee"!
And yet off I drove from New Orleans, alone, alone, alone, in a decrepit, unreliable 1980 Oldsmobile diesel car, and drove up from Louisiana (where I had learned all I could about pro-white candidacy from David Duke), I arrived in Nashville, got the papers to file for US Congress, and then went to the supermarket near my motel in Murfreesboro to get 50 signatures in the boiling summer sun of Tennessee, all alone.
.
.
Why all alone? Why? There was NO "movement" at all in Tennessee, no Klan, no National Alliance, no Nazis, nobody. Zero activism.
And yet I ended up as I did, either winning the Republican primary (we cannot know due to the vote fraud), or I came very close, in a state I was NOT FROM, a damn yankee northerner in a southern state, with the wrong accent, and no local support. What does a nerd like [a critic of mine, and a mathematician] know about running for office, the money needed, the organization, the willingness to be ridiculed, defamed and threatened with beatings and death?
Did [my critic] ever have a millionaire approach his manager with a $10,000 under-the-table money offer in the last, desperate week of a campaign so as to set him up for arrest by the Tennessee Bureau of Investigation?
(10:11 to especially the "quarter" experience" and then to the very end) https://www.sonnenrad.tv/channel/video/My-British-grandfather-and-a-famous-seer-Part-2-of-2/5b914ac2dcab463f172f39306ad91d58/3
I am that same man today as I was then, Ray, but stronger, wiser, sadder, better prepared, and more full of hate to the death for the psychopathic Jew genociders.
This was a four-page letter I sent my backers explaining about Tennessee and a possible race against Senator Al Gore (the future Vice President) and 2000 Democratic nominee for President.
It strikes me how valid today, 26 years later , its message is. (I switched from running against Senator Gore to Congressman Bart Gordon due to a promise of support by a rich Gordon-hater.) It strikes me how valid today, 26 years later , its message is. (I switched from running against Senator Gore to Congressman Bart Gordon due to a promise of support by a rich Gordon-hater.)
page 1 of 4
page 2 of 4
page 3 of 4
page 4 of 4 (conclusion)
……..Porter "source" Holappa endorses whites sleeping with blacks
I have written extensively about the downfall of this once-promising WN activist: https://www.johndenugent.com/?s=holappa
Facing supposed prosecution in Finland for hate speech over Muslim gang rapes, and having met him in Germany in February 2007, Margi and I opened our home in Pennsylvania to him in the US in 2008 and he stayed with us for eight months until "arrested" by Homeland Security on a bogus "visa violation" (or did he deliberately not sign that one page on the political-asylum application form?)
Now he has gone full-traitor, this source for Porter's libels on MY supposedly "rotten character," again slamming me in his new book in Finnish, AND adding to his targets all white nationalism, antisemitism, and "islamophobia," abandoning his white wife and daughters, marrying a Chinese, and betraying the organizational and operational secrets of his new victims, the Nordic Resistance Movement!
Awwww, "Dan" and Henrik
.
.
Falsus in uno, falsus in omnibus: Once a witness has been proven to have lied once under oath against a person, this destroys ALL their testimony against the person.
.
Margi, Henrik and Carmen in Sarver, Pennsylvania in 2008; he never thanked her from 2008 to 2016 for the $2,000 she laid out for his lawyer.
Here I am with him in the lobby of that office building where attorney Valerie May took his case.
Margi and Holappa jokingly play "iceball" in January 2009 in Sarver on the Butler-Freeport Trail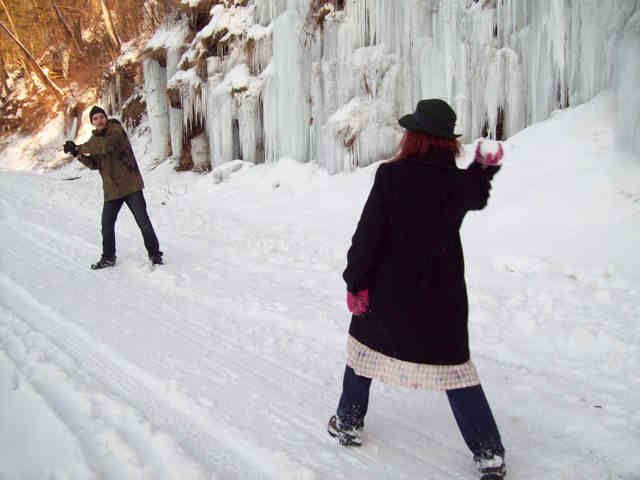 And yes, this is from Holappa's official email address that he has had for a good nine years. And yes, this is from Holappa's official email address that he has had for a good nine years.
https://www.johndenugent.com/english/troll-regurgitates-to-boers-the-disproven-2014-porter-slanders-my-attempt-in-2014-to-get-a-run-for-mayor-going-in-apollo-pennsylvania-trump-trouble/#comment-615438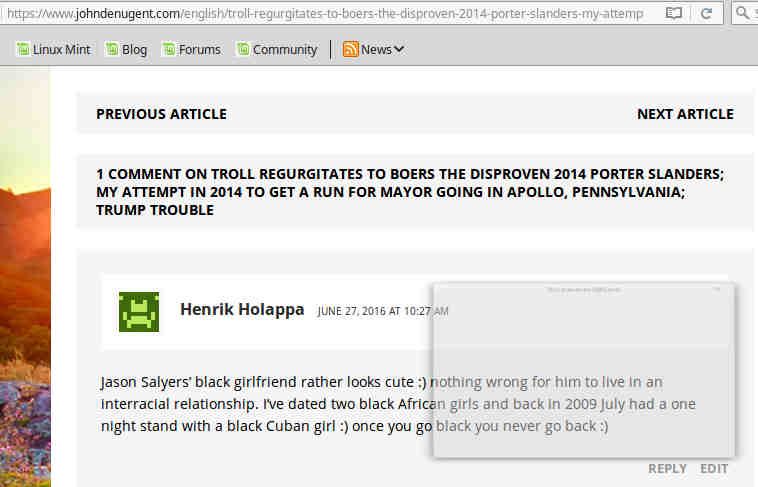 Fellow JdN defamer Jason Salyers, who like Holappa is a WN dropout, race mixer, and white-wife-and-child abandoner
.
……So, WNs who have defamed and blasted me for five years now using the Holappa-Porter material, I am holding my breath now.
Where are your apologies and retractions?

Hahhahahahahah.
You know what? You people really are in a hate movement.
You hate other races, and most of all, you hate other whites.