Liberals are generally speaking a psychotic bunch, with these particular Marxists maggots, some of the worst I've read about.
The Huffington Post reported that,
"A group of students are attempting to raise enough money to buy a £6m Scottish castle – so they can give it to asylum seekers to live in.
The group, from Aberdeen University, want the 38-bedroomed Dall Estate in Perthshire to become the new home of refugees wanting to live in Scotland.
The castle also boasts tennis courts, a golf course and an army assault course, all set in 265 acres – which dates back to the 1300s."
"We feel so strongly about helping the migrants and being a part of their community." A female member of the Student groups told us.
Really?
My guess is the girls and emasculated hipster males (pictured above) behind the Buy a castle for the Somali Refugees' campaign, started by a group known as Comrades of the Glen (how Bollinger Bolshevik), won't be spending one night with the Somali refugees once they've procured the property and know full well what will become of the home after the north African Muhammedans get their mitts on it.
Still the Marxist vermin would rather hand it to a bunch of Islamic criminals than allow a wealthy person the opportunity to buy, maintain and preserve the property…a person that very well might open it up to the public in one way or another, as so many owners of stately homes have.
Darroch Bratt, who studies anthropology and archaeology at Aberdeen University, told the Press and Journal: "Basically, this came about by a total accident. I was looking through some property websites and this one caught my eye.
"So, I started talking about it with a few of my friends and we all agreed that it would be such a horrible waste to see it become another playground for the mega-rich.
"And we just felt that there had to be a better way to use all that land – we thought that housing conditions are generally not the best for refugees wanting to live in Scotland."
The 24-year-old explained the idea is to run a co-operative model, which should create a "vibrant community".
Vibrant community?
Have these cretins not seen what the vibrant Somali community have done to Malmo, Sweden? To Somalia? Somalia would be a lovely country if it weren't for the….Somalis that live there. Our resident US marine tells me that apart from the garbage and human faeces, the beaches on the Red and Indian Sea are magnificent.
Besides, what's wrong with buying a dilapidated housing estate and fixing it up for the poor migrants with your own blood sweat and tears? Why does it have to be a beautifully restored historical landmark that represents the beauty, tradition and history of Scotland?
I think I answered my own question.
And it's not as if they're buying the castle with their own money; the Marxist students are for all intents and purposes begging online so a group of Islamist criminals that arrived here illegally, can live inside a national treasure and wreck it.
All while there are literally tens of thousands of homeless Brits, returning servicemen and unemployed people living rough on the streets of their own country.
The Huffington post writes that,
"The group, who runs the Shared Planet Cafe in Aberdeen, is seeking donations from crowd-funding site Indiegogo and has a 28 December deadline."
Spokesman Bratt added: "It's certainly ambitious but we think that it can capture the imagination of the public and that we can make this work. We're quietly confident."
You would be, you arrogant Marxist rat.
Again, if the Marxist swine wanted to buy a dilapidated ruin with their own money, restore it and then house the migrants as some sort of social experiment, that would be one thing, but to ruin a national treasure for the sake of their twisted ideology, is criminal.
Madness, sheer madness.
Check out the splendour of the place via the property site selling it.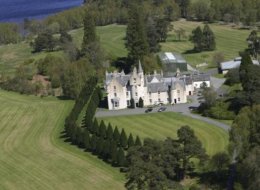 A bird's eye view of the castle.
Please be sure to subscribe to our newsletter at the top of the page. It is free!