I mean come on how many of your granddads actually thought highly of homosexuals?
I recall having a chat with a liberal loon at work one day.
When I told him my east end dad referred to homosexuals as puffs he told me my granddad was ignorant. When I told him he was born in 1926, the puff told me that was no excuse.
Well it seems ol' Nigel thinks it is!
Why?
Times have changed. Three short decades ago homosexuality was classified by the Royal Society of Medicine as a pathology.
Oh how times have changed!
Most over-70s in Britain still feel uncomfortable about homosexuality, the Ukip leader, Nigel Farage, has said.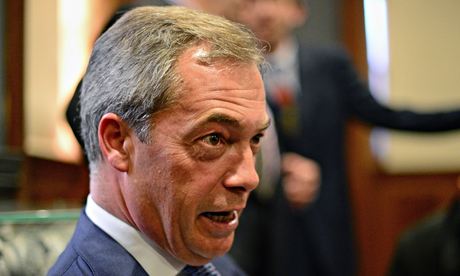 The politician made the claim as he defended Roger Helmer, the Ukip byelection candidate in Newark, who said in a pamphlet from 2000 that homosexuality is "abnormal" and "undesirable". Helmer also questioned the concept of homophobia, and compared allowing equal marriage to legalising incest.
David Cameron, meanwhile, gave a guarantee that he would deliver a European Union referendum as he urged floating voters not to succumb to Ukip's belief that "we're all doomed".
The pledge echoes his guarantee when in opposition that he would hold a poll on the Lisbon Treaty – which never happened because Gordon Brown had already ratified it by the time Cameron became prime minister.
Ukip have held up Cameron's failure to meet his promise as a sign the Conservative leader cannot be trusted to hold a referendum on the UK's EU membership.
But Cameron used an interview with the BBC's Andrew Marr Show to say
he was confident of being able to negotiate reforms of the EU and then hold a poll by the end of 2017. If he cannot secure concessions from Brussels, Cameron said he would not "sit on the fence" in the subsequent referendum, suggesting he has not ruled out campaigning for Britain to leave.
Farage, defending Helmer, argued that many older people were not happy with the idea of homosexuality, let alone the idea of gay people marrying.
The Ukip leader has repeatedly sidestepped questions about whether he supports gay marriage, retracting a statement from his party saying it would not repeal same-sex marriage legislation.
He told BBC1's Sunday Politics: "Roger Helmer is fighting this byelection for us; he's somebody of 70 years of age who grew up with a strong Christian Bible background. He grew up in an age when homosexuality was actually imprisonable, and he had a certain set of views which he maintained for many years which he now says he accepts the world's moved on and he's relaxed about."
Farage pointed out that the comments were made when Helmer was a Conservative MEP and not a member of Ukip. "I've never seen a single comment from Roger Helmer on race that would be deemed to be offensive, ever. Really," Farage said.
Helmer has said he now accepts gay marriage and told the Guardian last week he had modified his views after "catching the zeitgeist".
Farage's comments come a few days after Harry Perry, a Ukip council candidate in Stockport, was suspended for branding David Cameron a "gay-loving nutcase".
Farage also gave his support to Victoria Ayling, who has been selected as a Ukip parliamentary candidate despite having been recorded on tape saying of immigrants: "I just want to send the lot back."
The Ukip leader claimed the Lincolnshire county councillor had been misquoted and she had only been referring to migrant workers who were in the country illegally. "I've seen the tape and it's a complete misquote, and she says it in the context of illegal immigrants, and she says: 'That's what I'd like to say, but now I can't say it.'"
Deflecting the questions about his candidates, Farage said: "This is all very interesting, and we can talk about this, or what we could talk about is the fact that in 12 days' time, we have a national election – a European election – and every voter across the United Kingdom can vote in it and it's really interesting."